Company Profile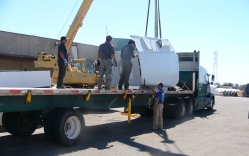 Halus Power Systems is a renewable energy products and services company. We help people produce electricity that is both environmentally sound and economical. We are North America's leading supplier of midsize wind turbines and have supplied projects with the largest and widest capacity range of midsize wind turbines available anywhere. We also design and manufacture many new wind turbine components including control systems. We stock wind many turbines from 90 kW to 600 kW at our 5 acre facility in San Leandro, California. As the wind industry continues to manufacture larger units and have discontinued production of previous models, remanufactured wind turbines offer the market sizes no longer provided by the world's major manufacturers. Rebuilt wind turbines are generally suitable for projects requiring under a few megawatts worth of generation. We specialize in remanufacturing wind turbines originally produced by Vestas, currently the world's leading wind turbine manufacturer. Our turbines feature options never before installed in North America, such as tubular towers for Vestas turbines under 150 kW. Our wide range of choices gives us the flexibility to accommodate varied requirements. With a satisfied coast-to-coast client list from California to Delaware and even remote locations in Alaska, we have developed the expertise required to supply varied locations. Having converted, remanufactured, and supplied the industry's first commercial wind turbine from 50Hz to 60Hz many years ago, we also have the necessary in-house engineering expertise to supply international projects with grid voltage and frequency environments other than those used in North America. Thank you for visiting this site. We look forward to serving your renewable energy needs.
One of my favorite things is seeing how happy and empowered our clients are when they produce their own electricity for the first time using one of our wind turbines.

- Louis Rigaud, General Manager
Products & Services
Wind Turbines & Controls

Halus Power Systems is the industry's leading supplier of midsize commercial wind turbines. We offer the nation's most extensive line of remanufactured Vestas wind turbines and stock wind turbines from 90 kW to 600 kW. Our fixed-pitch turbines are updated with new microprocessor-based controllers for modern functionality of these best-of-breed turbines, including network connectivity options for remote monitoring.
Replacement Parts, Retrofits & Upgrades

Halus can provide spare parts for Vestas turbines, including new Vestas parts, parts that meet or exceed the OEM standards, rebuilt mechanical systems, and new electrical systems. When repair of worn parts to a like-new condition is not possible, they are replaced with new parts, and we offer many upgrades beyond those originally supplied to modernize and enhance wind turbines. With our in-house machining and heavy fabrication capabilities, we also manufacture a variety of wind turbine components.
Technical Consulting

Our engineering and technical staff has the necessary expertise to provide the full range of documentation that may be required for wind projects, such as design packages for building and electrical permits, FERC Qualifying Facility applications, Army Corp of Engineers permits, FAA approval, and technical documents required for utility interconnection design reviews. We have provided this documentation for projects in numerous states across the US, from California to Delaware.